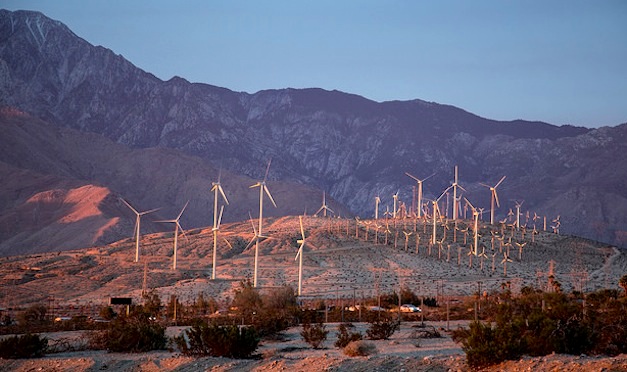 In 2006, former California Gov. Arnold Schwarzenegger passed a climate change law ("AB32 – the California Global Warming Solutions Act"), which requires the state to reduce greenhouse gas (GHG) emissions to 80 percent below 1990 levels by 2050.
Now, in anticipation of the UN Climate Change Conference in Paris later this year, Gov. Jerry Brown wants to take things to the next level to further build on AB32 and expand California's leadership role in the fight against climate change.
Want more positive news? Sign up for our Weekly Newsletter right HERE. 
"We've been able to demonstrate that it's possible to grow the economy and have cleaner air. We can stand as that marker for the world … that these policies can work," Brown said in a statement last month, pointing to the fact that California is on track to hit 1990 levels by 2020.
After issuing an ambitious executive order in April, committing California to a 40 percent cut in GHG emissions below 1990 levels by 2030, Brown last month took things to an international level when he signed the "Under 2" pact with leaders from 11 other U.S. states and countries.
The list of members includes Washington, Oregon and Vermont, Canada's provinces of British Columbia and Ontario, Mexico's Baja California and Jalisco states, Wales (United Kingdom), Baden-Wuerttemberg (Germany), Catalonia (Spain), and Acre (Brazil).
The "Under 2" act, while not legally binding, is an agreement that requires its partners to reduce greenhouse gas emissions by aiming for more renewable energy, cleaner automobiles with lower gasoline consumption, and better efficiency in older buildings.
Want more positive news? Sign up for our Weekly Newsletter right HERE. 
Participating states and countries committed to cutting GHG emissions to at least 80 percent below 1990 levels by 2050 in an attempt to keep earth's average temperature from increasing by another 2 degrees Celsius – hence the name "Under 2."
If the average temperature were to rise by that specified 2 degrees Celsius, scientists warn we would see severe climate change consequences including stronger hurricanes and rising sea levels.
According to Gov. Brown's administration, "Under 2" states have a combined $4.5 trillion gross domestic product and bring together over 100 million people, making it a very powerful group to set an example for the rest of the world.
"With this memorandum the signers agree to not wait for the consensus of the international community, but to lead decisively and by example in matters of climate protection," Winfried Kretschmann, minister-president of Baden-Wuerttemberg, Germany, said in a statement.
"We will strive to bring more states into this agreement," Brown added. "This global challenge requires bold action on the part of governments everywhere. It's time to be decisive. It's time to act."
—————————————————————————————————————————————————