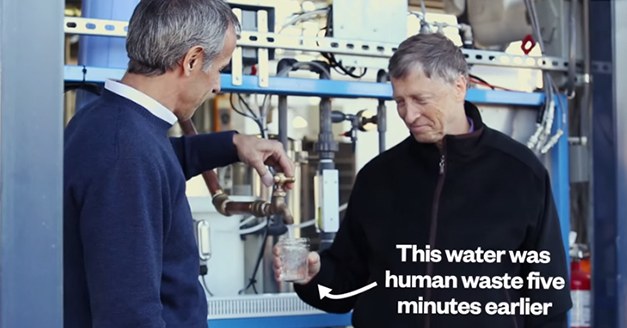 "I watched the piles of feces go up the conveyer belt and drop into a large bin. They made their way through the machine, getting boiled and treated. A few minutes later I took a long taste of the end result: a glass of delicious drinking water," writes Bill Gates in his latest GatesNotes blog post.
"The water tasted as good as any I've had out of a bottle. And having studied the engineering behind it, I would happily drink it every day. It's that safe," says Gates.
What the Microsoft mogul is describing here is the result of Janicki Bioenergy's brilliant invention called "Omniprocessor," which turns human waste into drinking water and electricity.
Why, you might ask?
The Problem
The Bill & Melinda Gates Foundation has collected data showing that up to 2.5 billion people (35% of the world's population) in the developing world practice open defecation, lack proper sanitation facilities, or use "toilets connected to septic tanks that are not safely emptied or use other systems that discharge raw sewage into open drains or surface waters."
As a result, the environment gets hurt and about 700,000 children die from diarrhea every year.
Gates makes it clear that Western toilet systems cannot solve the problem, because they require a substantial infrastructure that developing countries are simply not able to afford.
"If we can develop safe, affordable ways to get rid of human waste, we can prevent many of those deaths and help more children grow up healthy," says Gates.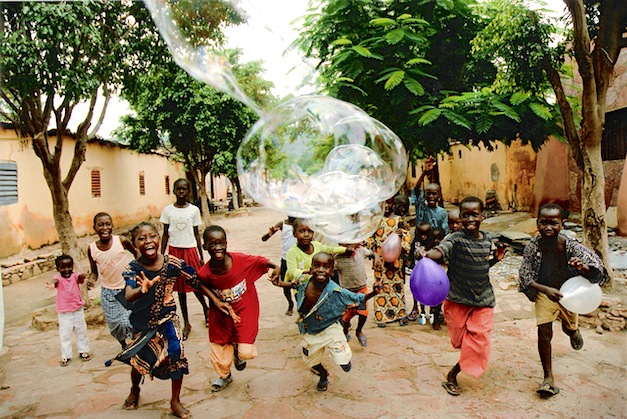 The Solution
The Omniprocessor, a machine that burns feces and acts as a safe repository for human waste while generating drinking water and excess electricity that can be used as power source for nearby communities.
Even better: because of the built-in steam engine, which is constantly refueled by the heat emitted from burning feces, the Omniprocessor generates enough energy to power itself.
Want more positive news? Sign up for our Weekly Newsletter right HERE. 
Gates also notes that because of the high temperatures (1000 degrees Celsius / 1832 degrees Fahrenheit), there is no smell and the machine meets all the emission standards of the U.S. government.
The next-generation processor currently in development will handle waste from 100,000 people, which will result in up to 86,000 liters of water a day and a net 250 kw of electricity.
(To see the machine in action and how Bill Gates drinks a glass of purified Omniprocessor water, take a look at the brief video provided by the foundation below.)
Competitive Business Model
The most innovative feature of Omniprocessor might be the fact that it not only solves a huge problem, but also comes with a business model that allows entrepreneurs in developing countries to build profitable businesses around water and energy sales, thus, making the whole product viable for more than just a non-for-profit environment.
"The processor wouldn't just keep human waste out of the drinking water; it would turn waste into a commodity with real value in the marketplace. It's the ultimate example of that old expression: one man's trash is another man's treasure," Bill Gates says proudly.
Want more positive news? Sign up for our Weekly Newsletter right HERE. 
A built-in system of sensors and webcams will allow Janicki Bioenergy to control and diagnose the machine remotely as well as communicate with local entrepreneurs half across the world in case there are any problems.
"If we get it right, it will be a good example of how philanthropy can provide seed money that draws bright people to work on big problems, eventually creating a self-supporting industry," Gates adds.
Next Steps
The Gates Foundation is now providing funds to Janicki Bioenergy to implement a pilot project in Dakar, Senegal, where they will focus on establishing the right infrastructure, location, and connections with the local community.
"It's really amazing to see how they've embraced the work; founder Peter Janicki and his family have traveled to Africa and India multiple times so they can see the scope of the problem," Gates says about the team's dedication to the project.
Our Luminary of the Week? Janicki Bioenergy. Simply because, only a few years after the Gates Foundation put out a call for new sanitation solutions, this brilliant engineering firm based north of Seattle has provided a simple solution to a complex problem that could quite literally change the world.
—
Image Credit: "2006 – 3º PREMIO _Pompas en Africa. Dakar_Senegal_Antonio Jesus Perez Gil" by UNED Universidad Nacional de Educación a Distancia / CC License 2.0 via Flickr