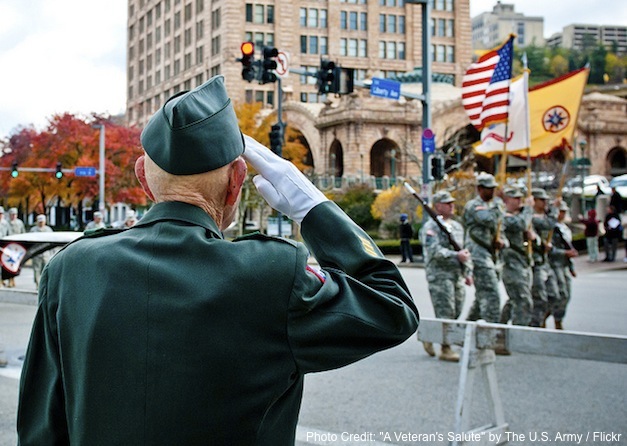 On Monday, the new Secretary of the Department of Veterans Affairs (VA) Robert McDonald, released a public letter to all VA employees detailing his plans in what he calls the "largest reorganization of the Department of Veterans Affairs since its establishment" (he told CNN).
The overall goal is to make it as easy as possible for U.S. veterans to receive good care and have access to all Veterans Affairs services.
"As VA moves forward, we will judge the success of all our efforts against a single metric: the outcomes we provide for veterans," McDonald said.
"In the last few months as your Secretary, I have met and heard from veterans and family members about how we can better serve veterans. These opportunities have informed my thinking as we work to plan for the future of the Department," McDonald started the letter addressed to VA employees.
Who Is Robert McDonald?
Robert McDonald is a former Army Ranger and has filled the prestigious and demanding position of Procter & Gamble CEO. Three months ago, he was appointed Secretary of Veterans Affairs by President Obama and Congress with the hope that McDonald would bring his experience from the private sector, especially when it comes to serving customers, and apply it to internal structures at the VA.
"Right now, we're looking at options used in the private sector to enhance our rapid delivery of services, and also at our own business processes that are suited for shared services," added McDonald his letter.
In an interview with NPR, he confirmed that "it's all about focusing on the customer and customer service. And what I've found is a department that wasn't quite as focused on its customers as it should be."
McDonald made clear that listening to and taking suggestions from both veterans and VA employees will be an important part of improving the organization under his supervision.
A New, Improved VA Website
He announced that today's Veterans Day marks the official launch of a web tool called "My VA Idea House," which provides a simple tool for VA employees to submit ideas on how to improve services, streamline processes and solve issues for veterans and their families. The site also offers employees to vote on submissions and enter into discussion and collaboration forums to create solutions as a team.
Further proof that he takes feedback very seriously came, when McDonald started giving out his cell phone number to reporters and veterans so they could call him with questions and suggestions, according to NY Daily News.
Want more positive news? Sign up for our Weekly Newsletter right HERE. 
What else will change?
In addition to providing veterans with better customer service, the VA Secretary announced the following changes, which he will start implementing over the next several months:
Establish a single regional framework that will simplify internal coordination, facilitate partnering and enhance customer service.
Working with our partners to establish a national network of Community Veteran Advisory Councils to coordinate better service delivery with local, state and community partners. 
Identifying opportunities for VA to realign its internal business processes into a shared services model in which organizations across VA leverage the same support services, to improve efficiency, reduce costs and increase productivity across VA.
McDonald also has plans to motivate young medical professionals all over the nation to join the VA's mission in addressing the shortage of doctors and providing the care that U.S. veterans deserve. In fact, he is currently on a recruiting campaign at medical schools and revealed plans to hire thousands more doctors and health care workers on CBS' "60 Minutes" this Sunday.
"I knew immediately I had to change the tenor. I have to get out there and I've got to tell the positive stories about what the VA does," Robert McDonald said about his new approach.
Early and Positive Results
All the hard work is already showing results.
"We've been working hard to improve getting veterans into our hospitals," said McDonald to NPR. "We've had over a million more appointments over the last four months. We've driven down disability claims by 60 percent. Homelessness is down of veterans by 33 percent. So it's all about results for the American people."
You can read Robert McDonald's full letter to the VA right here.