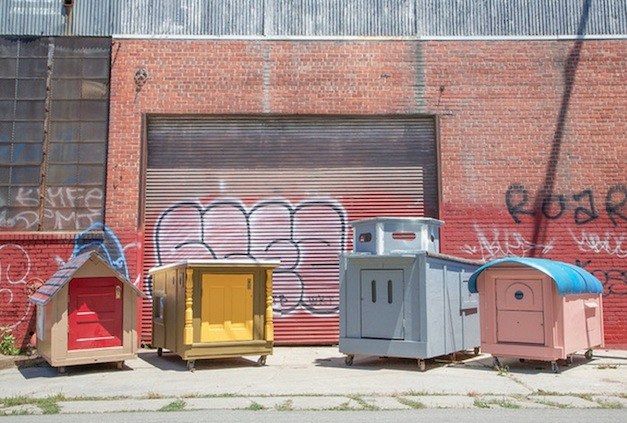 Artist Gregory Kloehn is using his creations to make a small difference in homeless people's lives. Using reclaimed materials he finds on the street, Kloehn makes small, one-person mobile homes. The tiny homes are on wheels so they can be moved and come with pitched roofs to keep out rain.
The 43-year-old sculptor by profession has made 10 of these homes through the "Homeless Homes Project" and intends to make more. He works with a small crew of volunteers collecting scraps of plastic and wood in Oakland, California.
"Stuff people just throw away on the street can give someone a viable home," Kloehn said in an interview with NBC News. "Does it have merit as a solution to homelessness? As far as giving people a shelter, yeah, definitely. Is it a solution to homelessness? It's an answer. An attempt."
Some of the houses have cool, interesting details like bright colors on the exterior, washing machine doors for windows, or the tops of minivans used for the roof.
"A lot of people who hear about what I'm doing want to get involved," Kloehn said to the Oddity Central blog. "Maybe we meet someplace and put a couple of homes together."
The artist is always looking for more volunteers or donations. If you want to get involved or find more information, check out his webpage.
Follow Luminary Daily's board Artist Helping Homeless on Pinterest.