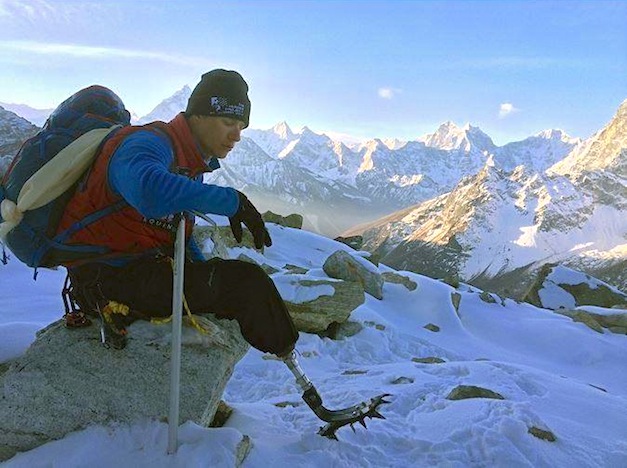 On Thursday, Charlie Linville, 30, of Boise, Idaho, has become the first wounded combat veteran to scale the heights of the legendary Mount Everest. He did this just three short years after loosing his leg due to an explosion while serving as a Marine Staff Sergeant in Iraq.
Linville, who made the climb using his prosthetic leg, said that he hoped the climb would allow him to be "showing people that, no, don't you have pity for disabled veterans because we're capable of so much more than you think."
Linville has been part of a team of climbers who are doing it to help wounded veterans and The Heroes Project charity. The Heroes Project was founded by Tim Medvetz, a former Hells Angel, who received severe injuries from a motorcycle crash and was nearly killed. He founded the Project to help wounded war veterans climb the most challenging mountains in the world.
The rest of the team has made it and are now navigating their way back down the 29,029 foot peak. The teams went by way of the northern route, which is the most difficult route to take and rarely chosen by climbers.
Want more positive news? Sign up for our newsletter right HERE. 
Linville is a veteran climber and has climbed some of the most challenging peaks in the world. "I was looking for something to completely change myself," he told KBOI 2 News, "And really get rid of the demons created by war. Can't get any taller than Everest, you know…"
Linville made the painful decision to have half of his right leg cut off after enduring the tremendous pain of 14 operations over the course of a year and a half. The married father of two decided that enough was enough and that it was time to get on with his life.
This was Linville's third attempt at the climb. "It is a whole movement that has become bigger than Tim Medvetz," Linville said. "All of a sudden you turn on the TV and here's a guy with one leg climbing Everest. If that don't get you off your butt… to take back your life, I don't know what is."
To learn more about Charlie Linville, check out his official profile on The Heroes Project here.
—————————————————————————————————————————————————
Image Courtesy of The Heroes Project