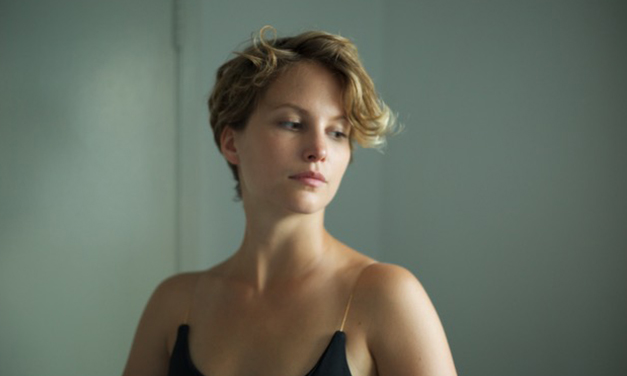 If you haven't seen Noisy Nest's production of "Almost Maine," you are missing out. Amanda Bird, director and producer of the show and founder of the theater company, has put together a marvelous ensemble and beautiful interpretation of the play.
Set in a fictitious town Almost, Maine, the play deals with love of all shapes and sizes and the play's characters, although dealing with real life issues, are confronted with somewhat magical circumstances. The story consists of various vignettes, witty and fast paced, that take the audience on an emotional rollercoaster.
Jana Nawartschi, who can be seen in outstanding performances for three different characters in the show, sat down with Luminary Daily to discuss the play's uniqueness, her own creative process, and why theater is not dead in LA.
Want more positive news? Sign up for our newsletter right HERE.
You play three different roles in the show, is that stressful?
It's not stressful at all actually! The costume changes can be a bit tricky, but I have a lot of help backstage, thank goodness. It's really fun to get to play these three vastly different people. The play is actually set up that way. It's not one linear story, but eight scenes that allow the audience to witness very important moment's of these people's lives, where something very magical happens. It's a wonderful show.
Tell us a little more about the roles you are playing.
I'm playing a young woman who gets broken up with by her girlfriend, although they both love each other deeply. What I love most about that scene is that love is described as something tangible and countable. Tamara Perry, who plays my girlfriend, walks in with all these bags of love that she is returning to me. It's actually a very heartbreaking scene. But I don't want to give away too much. The other one is a married woman who is desperately trying to connect to her husband and save her marriage. I can't really talk all that much about that scene, without giving away the ending. So you just have to come see it!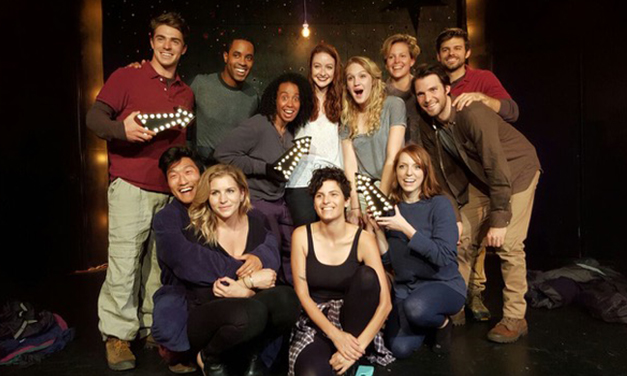 And the third one?
The third one is a very bittersweet scene of two ex-lovers who accidentally run into each other. It's painful and sweet, but also very funny. I love that scene a lot. It just warms your heart and cracks it a little at the same time.
What was it like working with Noisy Nest and Amanda Bird?
Amanda is really amazing and Noisy Nest is such a special place. She really allowed us all to explore these characters with depth and vigor. She also just has such a clear vision of what she wants and she just gets things done. We've been running the show now for two weeks, and still, when we feel like we want to work on something or maybe we think we lost the essence of a scene, she is there to work with us and rehearse if we want to. It's very cool.
Have you worked in theater a lot since coming to LA?
I hadn't as much, because LA is just not known for its theater really. But I've been part of Noisy Nest for quite some time now and have done a lot of staged readings, but this is my first full on production with them. Now that I have, I can't wait to do another one. It's a whole other world and I love it. There's also way more great theater in this town than you'd think. You just have to look for it a little harder, but it's all here. People care about telling stories and they care about theater. It sometimes just takes a little longer to find the creative community that's right for you.
Want more positive news? Sign up for our newsletter right HERE.
How has the feedback from the play been for you personally?
Amazing! I've gotten a new manager who saw me perform and wanted to sign me right away, so that was huge for me. I'd been wanting to work with a woman, it's just a different perspective and I needed someone on my team who was really excited about me. My parents came into town to see the show, and that was very special! They ended up seeing it twice. We had a few people come back a second time actually. Everybody loves the play, it just leaves you feeling happy and hopeful.
What's your favorite part about the show?
It sounds so cheezy, but I love my ensemble. We all grew so close as a group throughout the rehearsal process and we really have each other's backs at all times. We've been together, rehearsing and now performing, for almost 12 weeks and I can't imagine not seeing these faces after the show is over. I see every single one of them, quite intensely, multiple times a weak. It doesn't hurt that it's a lovely and funny group of people. We have a blast.
And it shows. "Almost Maine" runs through August 21st at the Working Stage in West Hollywood. Tickets are available at the box office or online on Noisy Nest's website right here.