The 2014 World Cup in Brazil is underway after a beautiful and musical opening ceremony yesterday with appearances from Jennifer Lopez and Pitbull. Brazil started the tournament with a 3-1 win against Croatia and today, Mexico enjoyed a 1-0 victory over Cameroon; at the time of writing Netherlands is handedly beating Spain, and Chile and Australia will face off later. But the tournament is young for these countries and their teams – the Cup is still anyone's for the taking.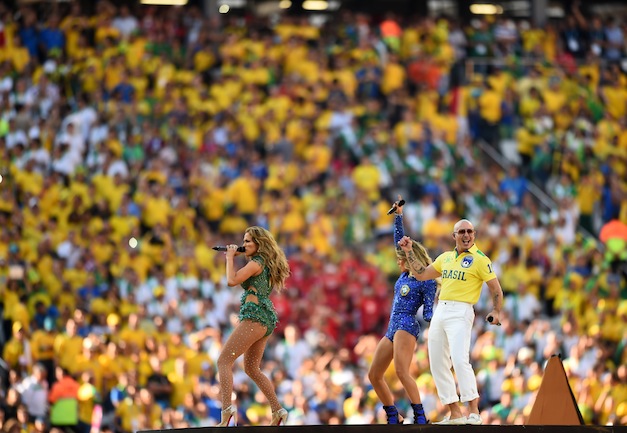 Whether you're familiar with the soccer world cup or not, here are some cool facts about the games that everyone can enjoy:
1.
This is the 20th World Cup. It is has been held every four years since 1930. (With the exception of 1942 and 1946, when it was canceled because of World War II.)
2.
"Juntos num so ritmo," or "All in one rhythm" is the official slogan of the 2014 Soccer World Cup.
3.
Because of disagreement and controversy in the past, this year is seeing some new technology used to decide goals. New goal-line technology will alert a referee if a goal is scored, sending the message to his watch. Referees will also be able to reference a 14-camera computer to help decide on tough game-time calls.
4.
Brazil holds the record for most World Cups won – a total of five times. But they have never won on their home turf. They lost to Uruguay when the country hosted the World Cup in 1950.
5.
Bosnia-Herzegovina will join the World Cup this year, playing for the very first time.
6.
The Brazil World Cup will hold games in more cities than ever before. Matches will be held in Manaus, Fortaleza, Natal, Recife, Salvador, Cuiaba, Brasilia, Belo Horizonte, Rio de Janeiro, Sao Paolo, and Porto Alegre.
7.
Remember the infamous "vuvuzelas" that became the unofficial symbol of the 2010 World Cup? The "caxirola," a maraca-like instrument, is Brazil's answer to that. However, they have been banned from World Cup stadiums after fans threw the instruments on a field back in April.