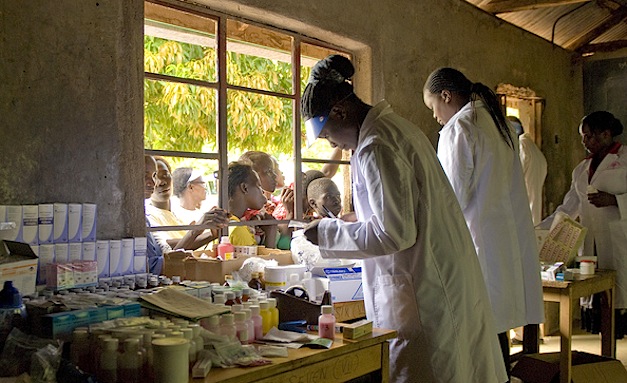 The World Health Organization (WHO) yesterday reported that the world is making "significant progress" toward malaria elimination citing that prevention and treatment efforts have saved more than 660 million lives and $900 million in case management costs since 2001.
The World Malaria Report 2015, released as part of the announcement yesterday, states that more than half (57) of the 106 countries with malaria in 2000 had achieved reductions in new malaria cases of at least 75 percent by 2015. During the same period, 18 countries reduced their malaria cases by 50-75 percent.
Want more positive news? Sign up for our newsletter right HERE. 
Additionally, an astounding 663 million cases of malaria have been averted in sub-Saharan Africa since 2001 due, WHO noted, "in large part, (to) the massive deployment of effective and low-cost malaria control interventions." The organization pointed to the scale-up of three key malaria control intervention techniques in particular – insecticide-treated mosquito nets, indoor residual spraying and artemisinin-based combination therapy.
"Since the start of this century, investments in malaria prevention and treatment have averted over 6 million deaths. We know what works. The challenge now is to do even more," WHO Director-General, Dr. Margaret Chan, said in a statement.
For example, since 2000, nearly 1 billion insecticide-treated mosquito nets have been distributed in sub-Saharan Africa, and by 2015, about 55 per cent of the population in this region was sleeping under mosquito nets, up from less than 2 per cent coverage in 2000.
The new estimates from WHO also show that across sub-Saharan Africa, the prevention of new cases of malaria has resulted in major cost savings for endemic countries; in fact, malaria control activities saved an estimated $900 million in case management costs in the region between 2001 and 2014.
Want more positive news? Sign up for our newsletter right HERE. 
The report adds that, for the first time since WHO began keeping score, the European Region is reporting zero indigenous cases of malaria, stating that, "This achievement was made possible through strong country-level leadership, technical support from WHO and financial assistance from the Global Fund to Fight AIDS, Tuberculosis and Malaria."
What's more, in 2014, a total of 16 countries reported zero indigenous cases of malaria: Argentina, Armenia, Azerbaijan, Costa Rica, Iraq, Georgia, Kyrgyzstan, Morocco, Oman, Paraguay, Sri Lanka, Tajikistan, Turkey, Turkmenistan, United Arab Emirates and Uzbekistan.
—————————————————————————————————————————————————
Image Credit: "U.S. Army medical researchers take part in World Malaria Day 2010, Kisumu, Kenya April 25, 2010" by US Army Africa / CC License 2.0 via Flickr