6.8K Flares
6.8K Flares
×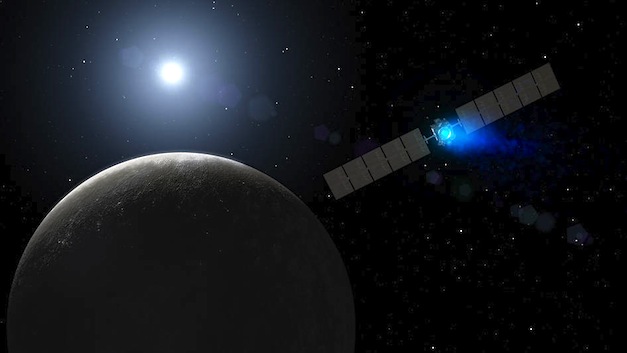 At 5:36 a.m. (Pacific) this morning, mission controllers at NASA's Jet Propulsion Laboratory in Pasadena received a signal from its "Dawn" spacecraft confirming that, after approaching at 450 miles (725 kilometers) per hour, it has officially entered dwarf planet Ceres' orbit as planned.
"Since its discovery in 1801, Ceres was known as a planet, then an asteroid and later a dwarf planet. Now, after a journey of 3.1 billion miles (4.9 billion kilometers) and 7.5 years, Dawn calls Ceres, home," said Dawn chief engineer and mission director at Jet Propulsion Laboratory, Marc Rayman.
The first signal was received in Pasadena exactly 57 minutes after the spacecraft was captured by Ceres' gravity at approximately 38,000 miles (61,000 kilometers) distance. (You can watch Dawn's approach to Ceres in the video at the end of the article.)
Dawn Makes History – Twice
Today's arrival at its target, Ceres, officially makes Dawn the first mission to achieve orbit around a dwarf planet, one of the last large bodies in our solar system that has so far been unexplored.
Dawn previously orbited and explored the protoplanet Vesta for 14 months (delivering over 30,000 images between 2011-2012) and has now become the first spacecraft in history to have orbited two deep-space, solar system targets.
Want more positive news? Sign up for our Weekly Newsletter right HERE. 
"Ceres and Vesta are the two most massive residents of our solar system's main asteroid belt between Mars and Jupiter," NASA explains.
"Orbiting both Vesta and Ceres would be truly impossible with conventional propulsion. Thanks to ion propulsion, we're about to make history as the first spaceship ever to orbit two unexplored alien worlds," Rayman announced recently. (Learn more about "ion propulsion" in this video.)
Ceres – Next Steps
Dawn's program manager at Orbital ATK, Joe Makowski, explained to the Washington Post that it is Ceres' water that makes it so important to explore.
"The first body that we visited, Vesta, was what we expected — very dry, basically rocky and heavily cratered, and probably pretty much intact in that fashion for billions of years. Ceres is in the same asteroid belt, but it's very different. It's very large — almost twice the diameter of Vesta — and it contains a lot of water. Visiting both will enable us to understand why one ended up so dry and one has so much water, and in turn how they developed and why they're so different," Makowski shared.
Want more positive news? Sign up for our Weekly Newsletter right HERE. 
Until April 23, Dawn will be on the dark side of Ceres and prepare for its first science observations when it returns to the bright side. Then, NASA will be able to capture even better images of the dwarf planet allowing it to further study and collect key data.
Chris Russell, principal investigator of the Dawn mission at UCLA, shared his excitement saying that, "We feel exhilarated. We have much to do over the next year and a half, but we are now on station with ample reserves, and a robust plan to obtain our science objectives."
You Might Also Like:
—
Image credit: NASA/JPL-Caltech