When the likes of Beyonce, First Lady Michelle Obama, Facebook executive Sheryl Sandberg, Melinda Gates, and former Secretary of State Condoleezza Rice are all telling you something, odds are that you're going to listen.
That's what LeanIn.Org and the Girl Scouts of the USA are counting on as they launch their service campaign to encourage leadership in girls. The campaign lead by Sandberg, called "Ban Bossy", has assembled an all-star celebrity support team tasked with drawing attention to the way women are systematically discouraged from leading.
"We too were called bossy as girls. Decades later, the word still stings, and we remember the sentiments it evoked: Keep your voice down. Don't raise your hand. Don't take the lead. If you do, people won't like you," write Sandberg and Lean In co-founder Rachel Thomas on LinkedIn.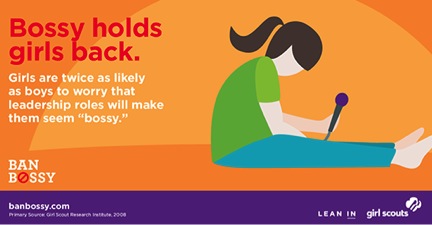 Strong women are often devalued starting in childhood when little girls are labeled "bossy," asserts the premise of the campaign.
According to graphics on BanBossy.Com, by the time young girls reach middle school they are less interested in leading than boys. Girls don't speak as much in class, getting called on less frequently, and are interrupted more than boys. Between elementary and high school, girls experience a decrease in self-esteem by 3.5 times more than their male peers.
It isn't a huge leap to imagine how these trends carry into adulthood, and the statistics tell the story. Women hold only 4.6 percent of Fortune 500 CEO positions, 14 percent of executive officer positions, and 16 percent of board seats.
Throwing around a word like "bossy" carries meaning. The feelings surrounding this word are deeply rooted and can keep some ambitious women from achieving their potential.
Critics of the campaign say that Sandberg isn't addressing the root of the gender divide with Ban Bossy, but it's hard to ignore the massive conversation that has been stirred up with this effort. And it is a conversation worth having for men and women alike.
Regardless of your gender, interests, or motivations, we believe it is important to get to the roots of problems that are holding back women and men from achieving their dreams. That's why the Girl Scouts are this weeks "Luminary of the Week".